Online edition of India's National Newspaper
Tuesday, Jun 02, 2009
---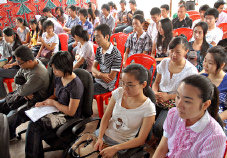 Chinese students at a function to mark the completion of a training programme
in Mysore on June-2nd-2009.
MYSORE: Kaizen 4Front Technologies, Mysore, a subsidiary of Kaizen Inc., U.S., conducted an information technology industry readiness programme for Chinese B.Tech. students of the University of Mysore. The two-month programme was conducted to make the students ready for the IT industry.
The batch comprising 50 students received certificates from Kaizen Technologies for successfully completing the course, at a function here on Monday.
Hemanth Kumar, who is in charge of the B.Tech. course, was the chief guest. Kuldeep Singh Chauhan, Head of Operations, Kaizen 4Front Technologies, and H.S. Balasubramanya, Chief Training Manager, Kaizen 4Front Technologies, and others were present.
Addressing the students, Dr. Kumar stressed the importance of a creative learning atmosphere and training programme to be ready for the industry.
Mr. Chauhan said that theory and practical sessions were conducted as part of the training. They also did projects as part of the B.Tech. course.
The University of Mysore and Wuhan University, China, have signed a memorandum of understanding for a student exchange programme and to improve academic ties.
The students have finished a two-year diploma in IT at Wuhan and their academic credits have been transferred to the University of Mysore, which will award degrees after completion of the B.Tech. course. Classes began on October 1, 2007.
Another batch of students from Haunghaui University is expected to visit Mysore for the same course.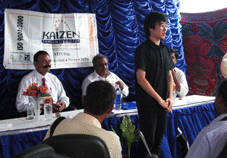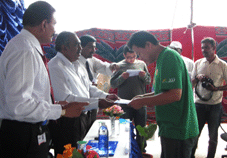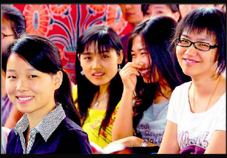 Chinese students at the valedictory function of 'Industry Readiness' training programme for Chinese University students undergoing B.Tech course at Mysore University in Mysore on June 1st-June-2009.